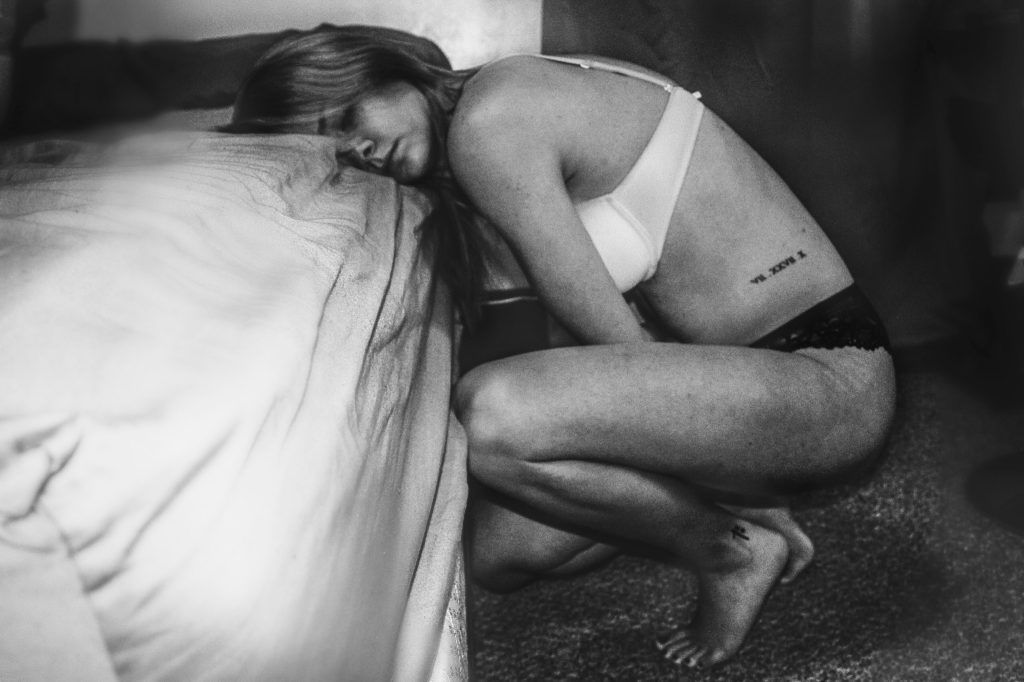 I was crouched in a bathroom stall in a bar on South Beach, wedged between the toilet and the cold metal partition. My heart was pounding in my ears, thumping wildly in my ribcage. I was trying to implode in on myself, to make the ball of my body so small and tight that I would either vanish or squeeze the terror out of my veins.
My neck, shoulders, and chest flushed hot then cold. I shut my eyes as tightly as I could against the green metal, white tile, fluorescent lights. I tried to breathe, but the flood refused to abate.
I would have run if I could, but I would never have escaped because the monster was inside. At 23, with my fun, attentive, attractive boyfriend waiting for me outside on the patio along with a warm, tropical breeze and the laughter of late-night partiers floating around me, I shouldn't have had a care in the world. I should have been holding his hand, strolling along the beachside bars, sipping on umbrellaed drinks and just enjoying my youth and the sound of the distant tide.
Instead, here I was, gasping for air on the dirty floor, praying for any escape. It wasn't my first panic attack, but it was certainly one of the worst, one of the top 5 when think back on the worst panic attacks of my life. Yes, there's a list. Like the time I was in the front row of a U2 concert and I had to be hoisted over the barrier by a security guard and escorted out, lest I be trampled from crouching on the ground. On this night, if you would have opened the door of my stall, you would have seen me virtually motionless, balled up and backed into a corner. On the inside though, I was drowning in dark water, limbs flailing, head thrashing, with no clue how to find the surface or my next breath.
When I finally did come crashing through and gasped the glorious, relief-filled air of the other side, the feeling of dark water drained from around me as almost as quickly as it had submerged me. I still felt tenuous, shaky, newborn, but I got up off the floor, gulped handfuls of cold water from the sink, and put a cold, wet paper towel on the back of my neck. I took a few deep breaths, and walked back out to my boyfriend, determined not to let him know what I had just been through.
Not only was the experience itself wrenching, the thought of letting someone else know I was broken in this way scared me almost as much. I was determined to keep this demon locked up.
Unfortunately, that's just now how these things work. You can only hold an active grenade in the closet for so long. Eventually my boyfriend did find out, and while he tried to be understanding, I knew he really didn't—couldn't—grasp the utter helplessness of panic, or the seeming illogical nature of it. It was nothing against him . . . of course it didn't make sense. Of course there wasn't any logic to it. I wondered--was this in some way my wiring? I was a shy kid with a little more than my share of worry. I had wrestled with bouts of anxiety, fear, and sadness in my late teenage years, and here it was continuing off and on through my early 20s.
The only people I truly felt got me were my mom and sister, who had both experienced anxiety or panic attacks before. They knew what it was like to drown in dark water, to grasp and grasp with nothing to cling to. In fact, my mom, who lived on the border, went so far as to cross into Mexico to get me a prescription medication that was normally used for seizures but had an off label use for anxiety. She'd heard it could help and I'm sure did not want me to suffer the way she had for so long. She also sent me recipes for smoothies with nourishing ingredients and checked in on my regularly. I took the medication a few times, but honestly I just didn't feel comfortable taking it for the long term, and I knew there had to be a different or better way.
My journey really started with a physical journey, and a move across the country from Florida to Colorado. So many things changed in my life then, and I was determined that getting hold of my anxiety would be one of them. Instead of medication, I went back to some other tools I'd been investigating or using off and on for a couple of years at that point, and just decided I would keep dancing with the panic, fear, and anxiety in my own way.
The older I get, the better I get at the dance, and literally every time I find myself in that place, it's a new game and a new challenge to emerge on the other side. Because NOW things are  different. NOW I know that wiring can be re-wired, and that the pattern, however tightly woven, can be loosened and set back into place a little differently every.single.time, until one day it's a whole new pattern.
My last full-blown panic attack was years ago. Now, when fear or anxiety grip me, I'm more likely to get more curious, to listen harder, to try to find out what my anxiety is telling me. Where are things out of alignment in my life, where are the notes out of tune, and--maybe most importantly--in what ways have I been turning a deaf ear? What is my anxiety trying to communicate? I wonder if I stop flailing and start floating, where I might find myself instead?
Have you experienced anxiety or panic, or is there someone in your life who has, and is looking for a different way? If so, I invite you (or them) to contact me so we can talk about alternative ways to start to feel better.
Photo by Sydney Sims on Unsplash