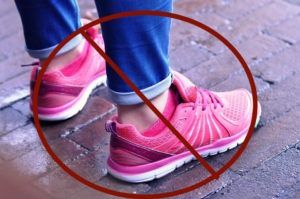 Here's a sentiment I've seen around Facebook quite a lot, as younger and younger friends, parents with young children, seemingly "healthy" people suddenly succumb to the dreaded disease: "F* cancer." And I get it. The seeming randomness of it, the feeling that no one is safe, perhaps underlying it all—if it could happen to THEM, could it also happen to me? And so we rail against it, shaking a fist at the sky. Anger. Fear. Sadness. F— you, cancer!!!
Like I said, I get it. I have lost loved ones to cancer, and know and love people fighting it now. At the same time, I worry that a fight against a mysterious, unseen assailant can stop us from the feeling of having agency, and when we don't think we have agency, we don't act. Act to find out where this is coming from, from fighting the complex causes. Because the truth is, cancer does NOT arrive from nowhere. It's true that we might not be able to cleanly identify a single instigator and unwind it for an individual . . . but then again, sometimes we can. And there are DEFINITELY known factors that we have control over. From the American Cancer Society: "Overall, about 1 out of 5 cancers diagnosed in the US are related to body fatness, physical inactivity, excess use of alcohol, and/or poor nutrition, and could be prevented." (emphasis mine).
My belief is that we need to seek REAL answers to this REAL problem.
So one way you won't find me acting is buying into buying all the pink merchandise in October. And I damn sure won't be walking with the Susan B. Komen Foundation, even though I used to before I knew better. Why is that? Well, for one thing, Komen Foundation is a bully. I was shocked to learn a few years ago that the foundation has a large legal arm entirely devoted to smothering independent fundraisers who also want to use the phrase "for the cure." I mean, are we not all on the same team here? Do we not all want a cure?
Secondly, they participate in a profit cycle whereby their "partners" are companies whose products are known carcinogens. These companies get to look like good guys by painting pink all over their products, while these same products can actually cause the disease they claim to fight. Really, Komen? Finally, in most instances, the actual amount of money going from the sale of any pinkwashed product is miniscule.
All this pinkwashing makes us feel good, while not actually doing much good. Time to raise REAL awareness of what's going on around us to create cancer instead of crocodile-tears awareness by organizations that do nothing. If we need to rail, maybe it should be against companies who know their products are carcinogenic. If we need awareness, perhaps it should be of what we can do to ourselves to keep our bodies healthy.  
I certainly don't have all (or even most of) the answers on prevention, but I do know a few of them. Books could be (and have been) written about this, so don't expect this list to be comprehensive. That said, here are 10 things that you have control over and can take action on today. I've also listed the tests I prefer and work with for monitoring each of these where applicable.
Buy organic.I am frankly shocked by how many people don't buy organic because they say there is no evidence to show it's in any way better. Setting aside the question of nutritional value for now (although

there's evidence to support that too

), buying organic will minimize your exposure to glyphosate, the popular herbicide also known as RoundUp, as well as other pesticides. In 2017, California added it to its list of human carcinogens, based on the 2015 conclusions of the

International Agency for Research on Cancer

. And research published just this month in JAMA (Journal of the American Medical Association) shows that we are accumulating this poison in our bodies at alarming rates. Of course, Monsanto, maker of RoundUp, is fighting back, saying there is no direct linkage. To that I say, even ifthere were no a

 

+ b correlation, we know that herbicides impact the microbiome, the colony of bacteria that lives in our gut. And we also know that 70-90% of our immune system resides in our gut. AND we have emerging, cutting-edge research on the composition of our microbiome and cancer development (see #5 below), so it follows logically that we'd want to avoid gut disruptors. Also? Some other pesticides may contain bromide/bromine, which can displace iodine (see #s 2 and 3 below), and low iodine is one possible risk factor for breast cancer. Buy organic.
TEST:

Glyphosate test

from Great Plains lab, ideally as an add-on to the

Organic Acids Test

.
 
Get adequate iodine. Iodine is a mineral found in sea vegetables, like seaweed and kelp, and saltwater fish. It's also found in high concentrations in breast tissue, and deficiencies in the breast tissue correlate with

increased susceptibility to carcinogens

. Fibrotic breast tissue is a classic indicator of iodine deficiency. Additionally, iodine actually causes cancer cells to self destruct (a phenomenon known as apoptosis). Nationwide, levels of iodine have been decreasing in recent decades. Supplementation with iodine can be used to rectify a deficiency, HOWEVER, it's important that those with an autoimmune thyroid condition (Hashimoto's) avoid direct iodine supplementation. Iodine should also be balanced with selenium, so proper testing before supplementation, and monitoring during supplementation, are both essential. Most people should not have an issue eating food-based iodine sources, like dry seaweed.
TEST:

24-hour Iodine Loading Tes

t from Hakala Labs
 
Avoid halides Iodine is a halide, derived from a halogen (perhaps you remember this group of elements from the periodic table in high school chemistry class?), and all halides have a similar chemical structure that means they compete in the body and can displace one another. Iodine can be displaced by halides like bromide and fluoride. When these other halides are present in the body, they can compete with iodine for receptor sites, so that even if we were getting enough in our diets, we wouldn't be able to make use of it.

Fluoride hides out in plain site in places like our drinking water, toothpaste, and mouthwash. I have a special water filter that removes it, and have long since stopped using fluoridated toothpaste (and have never had such good dental visits). But some other places are not so well-known--black tea, for instance, and kombucha, which is made from tea, are VERY high in fluoride. Aluminum and teflon pots and pans, and conventional produce, which may be sprayed with pesticides containing fluoride, are other hidden sources.

Bromide can also be found in drinking water. It's also in bakery products, pesticides, plastics, soda, and fire retardants that are sprayed on furniture and mattresses.

TEST: Fluoride and Bromide add-ons to the

24-hour Iodine Loading Tes

t
 
Reduce refined sugar.

Just-released research

confirms that cancer cells rapidly break down sugar to fuel tumor growth. Sugar can lead to unnecessary inflammation in the body, as well as a host of other issues (entire books have been written about this), so it's wise to eliminate it as much as possible anyway, but not feeding potential cancer cells is one more good reason to steer clear. Be aware though, that just kicking candy may not be enough. Our bodies are quite adept at transforming processed grains (bread, cereal, pasta) into sugar in two seconds flat, and even fruit in excess can lead to imbalances in blood sugar, so the best recourse is sticking to low-glycemic, high-nutrient carbs like leafy green and cruciferous veggies.TESTS: Fasting glucose, fasting insulin, and hemoglobin A1C (Ha1C)
 
Heal your gut Your "gut" is simply another word for the long tube extending from mouth to anus through which the food you eat is broken down, absorbed, and transported out to become a part of your body. When you read about "gut health" though, it's often in reference specifically to the large intestine, or colon, where we house 3-5 pounds (yep, your read that right!) of bacteria that supports our health. When this colony is disrupted, by prescription medications, birth control pills, air and water contaminants, stress, inflammatory foods, excess sugar, packaged foods, poor quality oils, and more, we essentially turn off the healing factory of beneficial organisms and and turn on the production of potentially toxic bi-products from creepy critters like candida (yeast), unfriendly bacteria, parasites, and other pathogens.

 

Cutting edge research

into the micrombiome and cancer is ongoing.This dysbiosis, or imbalance, is bad enough on its own, but it can also contribute to the development of excess intestinal permeability, or "leaky gut." "Leaky" in this context means that things like undigested food and metabolic waste escape through the intestinal wall and out into the bloodstream, where they trigger an immune and inflammatory cascade that taxes the immune system. Besides all this, 70-90% of our immune system resides in the gut, in large part in the lymphatic tissue lining the gut wall. This is another reason we don't want excess permeability through this gut wall.
TESTS: Organic Acids Test, Wheat Zoomer (assesses zonulin, a marker of intestinal permeability), GI MAP
 
Reduce grilled meats: I admit, this one saddens me a bit. I love fresh grilled foods in the summertime. The problem is with certain chemical compounds that are formed both from charing meat, and from the oils in meats that hit flames below and then permeate back up into the meat itself. The chemical reaction between the sugars and proteins in the meat increase compounds that can alter our DNA expression. However, the problem does not exist for vegetables, and seems to be worst with processed meats, so two ways to minimize risk are to use more vegetables (recommended anyway) and avoid processed meats like hot dogs. Other ways to minimize exposure are to pre-cook meat at a lower temperature first, and finish on the grill, and to turn the meat more frequently.
 
Test for oxalates & support oxalate clearing with B6. Oxalates are chemical compounds found in many otherwise healthy foods, so unless you have a known issue clearing oxalates,

 

or a genetic pre-disposition to breast cancer, there's likely no reason to go on a low-oxalate diet. However, there IS a known relationship between oxalates, micro-calcifications in breast tissue, and subsequent breast cancer, so it's wise to minimize exposure if you're at risk, have fibrocystic breasts, or show high oxalate metabolites on a simple urine test. In fact, an article in the journal BMC Cancer states that "We found that the chronic exposure of breast epithelial cells to oxalate promotes the transformation of breast cells from normal to tumor cells." There are two ways to do reduce oxalate exposure: Avoid high oxalate foods like almonds, cashews, raspberries and spinach (see a more complete list here, and always work with a practitioner), and supplement with nutrients that support clearing oxalates. B6 is one of the most critical nutrients to support this, as it reduces the conversion of glyoxylic acid to oxalate. Authors of a recent study also found that for every 100 pmol per ml increase in PLP (the active form of B6), there was an associated 23% decrease in the risk of breast cancer! Calcium and magnesium, particularly in the citrate form, have known benefits as well, and hinder absorption of oxalate into tissue. One final note: excess oxalates in the body can be a downstream effect of a leaky gut or insufficient bacteria in the colon that break down oxalates, so keeping that gut healthy comes into play here too! (see #5 above.)

TEST: The Organic Acids Test is useful for identifying both B6 deficiency and oxalate metabolites.

Choose fats wisely. Trans fats, made when vegetable oils go through a chemical process to make them solid, are about the worst thing you could put in your mouth. They've been demonstrated to increase death from EVERY cause, but also specifically to increase cancer and breast cancer risk. So where would you find these gnarly beasts? Packaged and processed foods are the worst offenders, and fried fast foods are next in line. Labels can be intentionally deceptive—food producers are allowed to state that a food has 0 grams trans fat if it contains less than .5 grams . . . per serving. Have you seen serving sizes lately? And not only will these companies list 0 trans fats in the nutrition information, they'll proudly advertise it on the front of the package! Don't be fooled! Steer clear of all foods that list hydrogenated or partially hydrogenated oils of any sort on the label.

Love your liver. With over 500 jobs, your liver is the ultimate multi-tasker. It's one of our main defenders from environmental insults, so caring for it goes a LONG way to supporting your body's ability to detox. Just like your desk when too many files are piled up, it can't get to doing all its jobs when we keep piling on new tasks. If the numerous environmental toxins entering our bodies daily can't get neutralized and eliminated, they're left to float around in your bloodstream causing destruction and catalyzing DNA damage. Damaged DNA is one risk factor that could lead to cancer. The best thing is to avoid these insults as much as possible by removing chemical insults like synthetic skin care products and toxic home cleaning agents. At the same time, taking additional measures like doing coffee enemas, applying castor oil packs, and drinking supportive herbal teas like dandelion root and milk thistle, can be supportive of liver function as well.

Be cautious with coffee. While coffee itself won't contribute to your cancer risk, the package it comes in certainly can. Coffee is often served in styrofoam cups, or with #6 or #7 plastic lids. When these types of packaging are heated the way they are when boiling hot coffee is poured in, they release carcinogens into your cappuccino. The compounds in these plastics are also neurotoxic and can cause neural problems in children. Making and bringing your own organic coffee is ideal, but at the very least bringing your own insulated, stainless steel cup to your corner coffee shop will help you avoid these compounds.TEST: Organic Acids Test with add on GPL-TOX